washington - Seoul should be ready to deal with threats beyond North Korea as Beijing's belligerence toward Taiwan and Pyongyang's threats to South Korea keep growing, analysts said.
South Korea's military readiness has long been directed to the north, as was displayed in a parade of its modern military hardware through Seoul on Tuesday to mark the 75th Armed Forces Day commemorating the founding of the country's armed forces.
The route marched through the main commercial and business district and ended at the Gwanghwamun area, which is the gate into the heart of Seoul. North Korea conducts military parades several times a year, but it was Seoul's first since 2013.
Speaking at Seoul Air Base in Seongnam before the parade, President Yoon Suk Yeol said South Korea would bolster the country's defense industry and warned North Korea its regime would be "brought to an end by an overwhelming response" if it used nuclear weapons.
South Korea manufactures arms, such as the tanks, drones and ballistic missiles featured in the parade, to defend against its main adversary, North Korea.
North Korea has been conducting a series of missile launches this year, including several intercontinental ballistic missiles, cruise missiles and satellites that failed to take off.
FILE - In this photo provided by the North Korean government, North Korean leader Kim Jong Un speaks during his visit to the navy headquarters in North Korea, on Aug. 27, 2023.
North Korean leader Kim Jong Un said at a key parliamentary meeting that the regime's 'nuclear force-building policy has been made permanent as the basic law of the state,' according to the country's state-run KCNA on Thursday. Kim also blamed the 'triangular military alliance' among the U.S., South Korea and Japan for elevating threats by forming an 'Asian-version NATO.'
Analysts say that while South Korea is taking a stronger military posture against North Korea, its defense strategies must also deal with threats from China, especially as a possibility exists for a two-front conflict initiated by the two autocratic states.
"South Korea absolutely should prepare to deal with threats beyond North Korea," said Markus Garlauskas, former national intelligence officer for North Korea on the National Intelligence Council at the Office of the Director of National Intelligence. He's now director of the Indo-Pacific Initiative of the Scowcroft Center for Strategy and Security at the Atlantic Council.
"It's clear from South Korea's defense white papers and its defense acquisitions that Seoul has already begun to prepare to deal with threats beyond North Korea," Garlauskas said. "But Seoul has been understandably reluctant to be too explicit about what countries it finds threatening. However, this reluctance is slowly fading. China poses an increasingly clear threat to the security interests of South Korea, and I do expect that, over time, Seoul will be more willing to directly acknowledge and confront this threat.'
Garlauskas wrote in a paper published in August about the possibility of a two-front nuclear war breaking out in East Asia - one initiated by a Chinese invasion of Taiwan and the other by a North Korean attack on the South.
"The U.S. and its allies can no longer think about conflicts with the PRC and North Korea in isolation from each other" but "must take urgent action to prepare for the possibility of facing limited nuclear attacks in an East Asia conflict scenario," he said in the paper.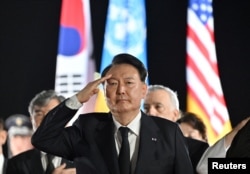 FILE - South Korean President Yoon Suk Yeol salutes at Seoul Air Base in Seongnam, South Korea, July 26, 2023.
South Korea's defense white paper issued under the Yoon government in February described North Korea as its "enemy" for the first time in six years. It mentioned China in the context of its rivalry with the U.S. but did not specify Beijing as posing a direct threat.
At the same time, however, Seoul said it aims to integrate defense forces and align its capabilities with countries that share its values to respond to "complex security threats" as the "security environment is increasingly redefined by simultaneous and complex threats."
In a joint statement that South Korea, the U.S. and Japan issued at the trilateral summit at Camp David in August, the three countries expressed concern about China's "dangerous and aggressive" moves to support its maritime claims and opposed "any unilateral attempts to change the status quo" in the Indo-Pacific.
In a separate document, the three countries committed to consult in coordinating their responses to what they consider "threats affecting our collective interests and security," without defining the limits of threats.
Leaving open the kinds of threats in the commitment-to-consult pledge South Korea made with the U.S. and Japan broadened the boundaries of threats beyond North Korea to which Seoul could respond upon consultations, analysts said.
The commitment-to-consult pledge "acknowledges that Japan and Korea face common threats, especially but not exclusively from North Korea," said Ralph Cossa, president emeritus and WSD-Handa chair in peace studies at the Pacific Forum.
James Przystup, senior fellow at Hudson Institute's Japan Chair focusing on alliance management in the Indo-Pacific, said, "The commitment to consult with respect to threats affecting our collective interest and security does broaden potential actions on the part of the ROK but does not require any 'action' beyond consultations."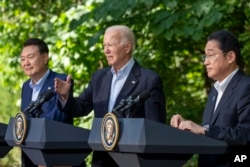 FILE - President Joe Biden, center, speaks with Japanese Prime Minister Fumio Kishida, right, and South Korean President Yoon Suk Yeol during a joint news conference, Aug. 18, 2023, at Camp David in Maryland.
He continued, "The Camp David statement represents the continuing evolution of ROK's strategic thinking with respect to China and alignment with the U.S. and Japan."
Some analysts said a possible invasion of Taiwan by China would be likely to change South Korea's defense against North Korea because military assets of U.S. Forces Korea could be redirected to defend the island. Taiwan has been governed independently of China since 1949. Beijing views the self-governing island as its own territory.
Tensions between Taipei and Beijing are increasing, and Taiwan said China has sent dozens of fighter jets, bombers and warships near its waters and airspace in recent weeks that are "getting out of hand."
"As soon as the U.S. diverts some of its resources that would otherwise go to South Korea" in defense of the North, "South Korean defense is weakened regardless of whether any South Korean forces go," said Bruce Bennett, a senior defense analyst at the Rand Corporation.
He said that if the U.S. begins to deploy its forces to defend Taiwan, China is likely to "attack U.S. military bases, especially the ones in southern Japan, like the Kadena Air Base."
Bennett added, "The very first attack on those bases" could "cause the mutual defense treaty of South Korea and the U.S. to be invoked, because the mutual defense treaty says that if the either side is attacked, the other side will take actions necessary to support its ally" once the ally decides to act.
Cossa, a member of the ASEAN Regional Forum Experts and Eminent Persons Group, said, "One major concern the U.S. should have in the event of a Taiwan conflict is North Korea opening up a second front" and "the reverse is also true if in the event of a Korea conflict."
"As a result,' he said, 'a strong defensive posture would need to be maintained on the peninsula, perhaps augmented by others who are part of the U.N. Command."
In August, as Yoon met with key U.N. Command officials, he said North Korea considers the UNC 'the biggest barrier' to unifying the Korean Peninsula under its communist rule.