Photo credit: Ercin Erturk / Anadolu Agency
The death toll from last Monday's massive 7.8 magnitude earthquake in Turkey and Syria has now exceeded thirty-five thousand.
Multiple aftershocks, well exceeding 100, rocked both countries and were felt as far away as Lebanon and Israel. It is the worst earthquake to strike the region in more than a century.
On Monday, a week since the earthquake, the death toll rose above 35,000.
"Because the debris removal efforts are continuing in many buildings in the earthquake zone, we do not know how high the number of dead and injured will rise," Turkish President Recep Tayyip Erdogan said, "Everyone is putting their heart and soul into efforts although the winter season, cold weather, and the earthquake happening during the night makes things more difficult," he added.
More than 141,000 thousand rescue personnel are combing the devastated areas where the impact of the quake was most felt. Bulgaria, Croatia, Spain, the Czech Republic, Italy, France, Greece, Hungary, Malta, the Netherlands, Poland, Slovakia, and Romania have dispatched rescue teams to the region.
"Our thoughts are with all those who have lost loved ones and the brave first responders working to save lives," European Union foreign policy chief Joseph Borrell and Commissioner for Crisis Management Janez Lenari said in a joint statement.
German Chancellor Olaf Scholz, British Prime Minister Rishi Sunak, and Israeli Prime Minister Benjamin Netanyahu have made available their countries' emergency response crews, although Israel only to Turkey, not Syria. The Palestinian Authority has weighed in with support for both countries. "I am shocked to learn of deaths and injuries of hundreds of people as a result of the earthquake in Turkey, Ukrainian President Zelenskyy said in a tweet, noting Ukraine too was ready to provide assistance.
"On February 6, 2023, a magnitude 7.8 earthquake occurred in southern Turkey near the northern border of Syria. The earthquake occurred at a shallow depth of 18 km (11 miles). The USGS PAGER impact report is RED for Economic Losses and Orange for Fatalities, indicating extensive damage is probable, the disaster is likely widespread, and significant casualties are likely. The earthquake was followed 11 minutes later by a magnitude 6.7 aftershock. The magnitude 7.8 earthquake resulted from strike-slip faulting at shallow depths. The earthquake appears to be associated with either the East Anatolia fault zone or the Dead Sea transform fault zone," the U.S. Geological Survey said in a statement released Monday.
According to the Syrian American Medical Society, hospitals in Syria have been filled to overflowing as the war-torn country struggles to deal with this latest disaster. Despite waging war against Syria over the past 11 years, Israel is sending emergency relief supplies to the country and has promised to take in and provide medical care for Syrians injured by the quake.
Syrian President Bashar al-Assad chaired an emergency meeting of Cabinet on Monday to discuss the repercussions.
"The current primary situation has been assessed following the strong earthquake, the most damaged provinces and sites have been identified which have largely concentrated in Aleppo, Hama, and Lattakia provinces," the president's office said in a statement.
"Based on reality, an emergency nationwide action plan has been set, and led by a 24-hour central operations room, in addition to field teams on the ground."
Khalil Ashawi, a photojournalist covering the Syrian civil war says what is unfolding now eclipses anything he has seen so far. It's a disaster. Paramedics and firefighters are trying to help, but unfortunately, there is too much for them to deal with. They can't handle it all," Ashawi told CNN. Entire families have been killed. Seven to eight people from the same family, are all gone. These are the sort of situations I am seeing and hearing about today.
It is freezing at the moment, and there are so many people sleeping in the streets right now because they have no homes to go to, Ashawi, whose parents at home in Turkey have been missing since Monday, added.
The Syrian government says it has undertaken a number of immediate steps to alleviate the suffering:
- All concerned ministries, institutions, and authorities have been put on alert.
- All teams and capabilities of civil defense, firefighting, health, and public construction companies and their branches in the provinces; all service institutions and public services departments have been instructed to carry out life-saving and rubble removal operations.
- All governors have been directed to mobilize all potentials of the public and private sectors and mobilizing all vehicles to carry out rescue operations and contribute to removing the rubble.
- Providing urgent health care for all the injured in various provinces, and mobilizing all medical cadres in the Ministries of Health, Defense and Higher Education.
- It was also directed to urgently secure shelters and food for those affected, and secure oil derivatives to supply the emergency technical operations in the affected provinces.
- Instructing the Internal Trade Ministry to provide the necessary foodstuffs for the shelters and affected people, and mobilize its cadres to perform this task accurately and quickly.
- Instructing the technical safety teams to assess the condition of the cracked buildings, set a description of their technical condition, and evacuate them from the residents in case of danger.
- The Water resources department was tasked with quick detection of dams, reservoirs and water stations, and ensuring their safety and the continuity of water access to citizens.
President al-Assad instructed concerned ministers to head to the provinces to directly supervise the operation rooms.
In parallel, the Central Operations Room in Damascus is following all developments and is taking 'the necessary measures to support the operations rooms in the provinces,' the government statement said.
U.S. Secretary of State Antony Blinken expressed support.
"We extend our condolences to the families of those affected and are assessing our comprehensive response options. I have directed my team to remain in close contact with our Turkish allies and our humanitarian partners in the coming days to determine what the region needs," Blinken said in a statement on Monday.
So too did President Joe Biden. "I am deeply saddened by the loss of life and devastation caused by the earthquake in Turkey and Syria. I have directed my team to continue to closely monitor the situation in coordination with Turkey and provide any and all needed assistance," Biden said in a tweet Monday.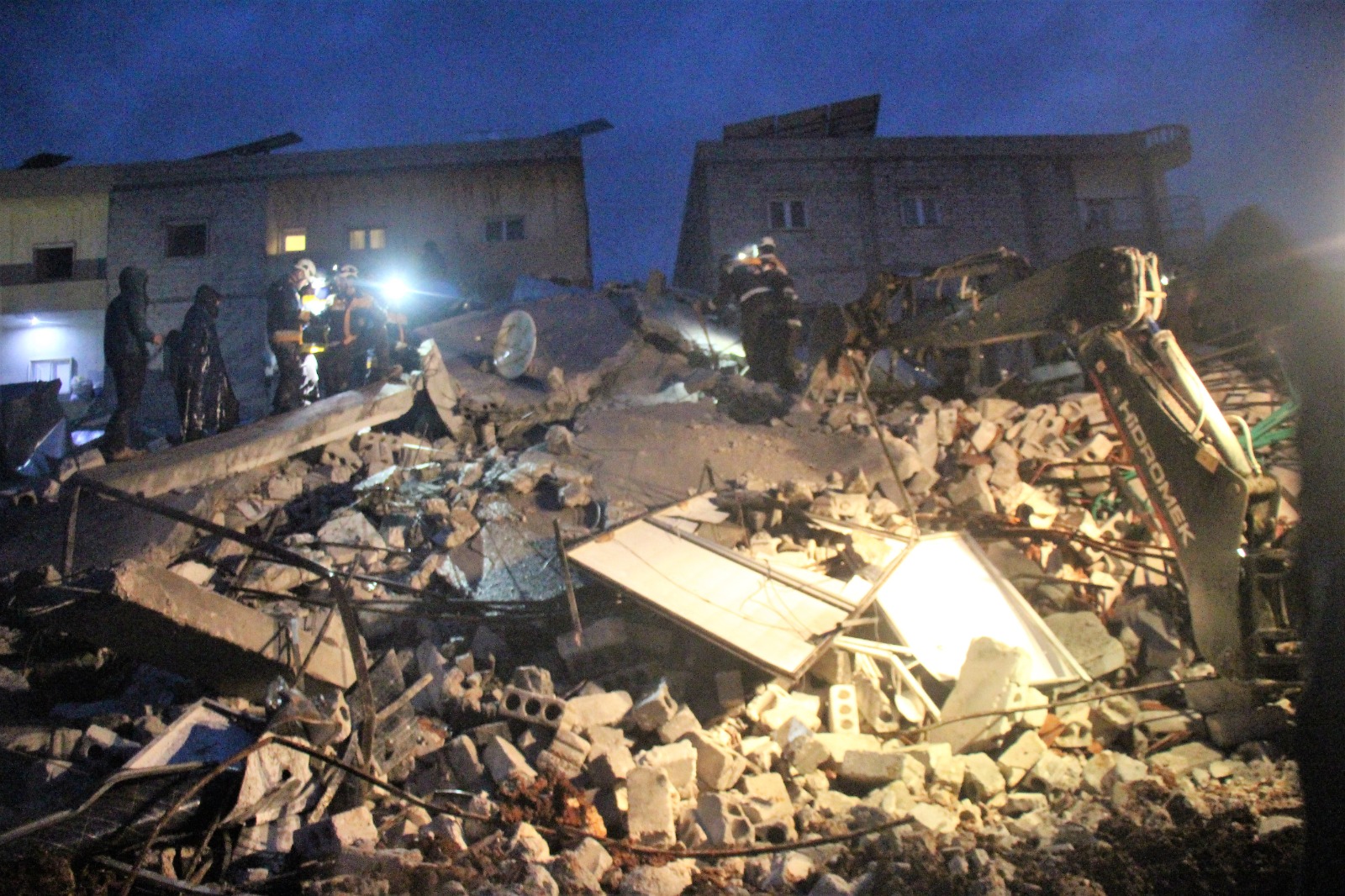 "Although earthquakes are commonly plotted as single points on a map, they rupture planes that have dimensions. A magnitude 7.8 strike slip earthquake typically ruptures a fault ~190 km long and ~25 km wide," the U.S. Geological Survey statement said.
"The region where the February 6 earthquake occurred is seismically active. Only three earthquakes of magnitude 6 or larger have occurred within 250 km of the February 6 earthquake since 1970. The largest of these, a magnitude 6.7, occurred northeast of the February 6 earthquake on January 24, 2020. All of these earthquakes occurred along or in the vicinity of the East Anatolia fault. Despite the relative seismic quiescence of the epicentral area of the February 6, southern Turkey and northern Syria have experienced significant and damaging earthquakes in the past. Aleppo, in Syria, was devastated several times historically by large earthquakes, though the precise locations and magnitudes of these earthquakes can only be estimated. Aleppo was struck by an estimated magnitude 7.1 earthquake in 1138 and an estimated magnitude 7.0 earthquake in 1822. Fatality estimates of the 1822 earthquake were 20,000-60,000," the U.S. Geological Survey statement added.
Related stories:
Death toll in Turkey and Syria continues to spiral higher
United States refuses to provide humanitarian assistance to Syria